Achieving the maximum efficiency is the goal of any last mile logistics service. Businesses want to optimise and get the most out of each of their trips. To do this, they choose vehicles which are fully adaptable to their needs, adjusted to their delivery routes or to the specific requirements of their products. And they so by offering the greatest possible economic savings. All those factors which allow their customisation within this equation is welcome since it implies the greater adaptation of the means to the ends to be achieved. One of these customisation options stands out: cargo boxes.
A cargo vehicle, whatever its type – quadricycle, compact van… – will always offer different sizes and capacities. Choosing one or the other to create or renew a business fleet will depend to a large extent on these characteristics, since some vehicles will adapt better than others to their routes and to the products they need to transport. However, this choice will be strengthened and directed towards achieving the maximum efficiency if said vehicle allows the customisation of its cargo box: not only do you have the necessary space and capacity to transport your products, but you can take full advantage of them by carrying out good distribution adjusted to your needs.
The needs of each business for the distribution of its products
Businesses require vehicles with specific layouts for their last mile service, not just to make the most of the capacity of their cargo boxes and thus transport more products, but also to offer services of all kinds (for example, mobile workshops). In short, the profitability of each route will be multiplied if the cargo box of a vehicle perfectly meets the needs of the business.
Because the customisation of the box of a cargo vehicle is vital in order to move certain types of products in it: different sizes, weights, volumes… Vital to make the most of each route and avoid the costs of making several trips instead of one. Vital for categorising products, to keep them safe, prioritising them by order of delivery or needs… And vital for identifying them quickly and not wasting time. As well as vital in order to offer a fast, efficient mobile service: the business will be able to transport all the necessary equipment to carry out its activity and will not waste time repeating routes or looking for tools.
Advantages of customising cargo boxes
Better use of cargo space.
Security guarantee of the products transported.
Cost and time savings by taking advantage of each route to a greater extent.
Possibility of categorising the products transported and quickly identifying them inside the vehicle.
Prioritising products by order of delivery in the vehicle.
Offering fast and efficient mobile services, with all the necessary material.
Greater comfort for delivery staff.
Boosting of the brand image of the business.
Vehicles with configurable internal structures
Managing a fleet to achieve the maximum efficiency inevitably entails having vehicles customised to the specific needs of each business. So, opting for vehicles with configurable internal structures makes this goal within everyone's reach. Here at Inquieto we have several vehicles that meet this characteristic, conceived and especially designed for last mile logistics and for the optimisation of any delivery route. Examples of this are the compact electric van Cenntro Metro or the electric quadricycle Paxster Cargo.
Everything that a small delivery van or truck offers, but with the manoeuvrability of a smaller vehicle. That's what the compact electric van Cenntro Metro is like, capable of going where other larger vehicles fail to enter but with a large load capacity. No more and no less than 700 kg of capacity in a configurable box, both in its interior and in its opening, and a total volume of 4.5 m2.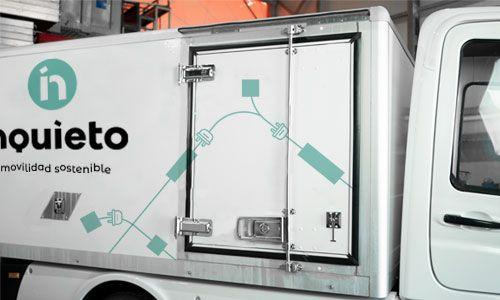 In turn, the Paxster Cargo electric quadricycle is the ideal vehicle for last mile logistics due to its small size but large capacity. It has a total cargo space with capacity of 1,000 litres, a total volume of 1 m3 and up to 250 Kg can be loaded. The internal structure of its cargo box is fully configurable and it has rear opening. Its dimensions are 1100 x 630 x 1140 mm and it offers extra front and side compartments. Two vehicles at the service of efficiency!