Full service renting of alternative electric vehicles for last-mile logistics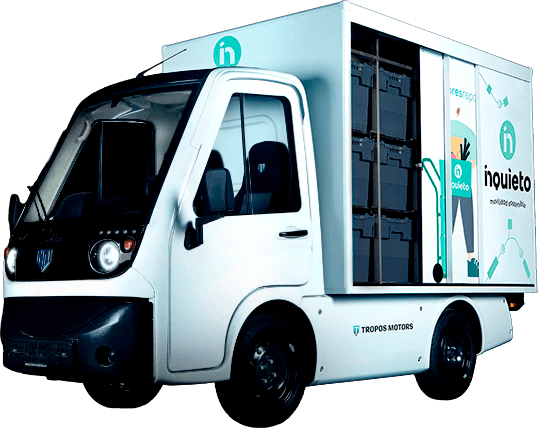 Options for all types of businesses
Inquieto offers electric commercial vehicle renting for last mile logistics delivery. From the delivery sector to large companies in the industrial sector, Inquieto adapts to the needs of each business by offering different rental options.
Inquieto's electric vehicle rental service for companies includes an extensive portfolio of mopeds, motorcycles, bicycles, quads and compact vans with personalised advice and configurations.
In addition to electric vehicle rental, Inquieto offers a maintenance service that includes 24/7 technical support, repair and revisions.
the rental of electric vehicles include?
Inquieto accompanies you from the beginning of your project and provides step-by-step advice on the best electric commercial vehicles for your business, to help optimise your delivery routes and ensure greater efficiency.
Inquieto's full service electric vehicle rental service also includes all the documentation needed and a customised maintenance programme so that all you need to do is focus on your business.

Outsourcing costs
Inquieto comprehensively manages your fleet of electric vehicles so that all you need to do is focus on your business

Flexible renting
Inquieto studies your needs and adapts to your business so that you can get the most out of each electric vehicle.

Personalised advice
Inquieto configures electric vehicles and seeks the best option to optimise your business routes.
Catalog of our electric vehicles
Would you like to rent Inquieto's electric vehicles? All models are available in rental format with different options to optimise your business routes.
Check out Inquieto's electric vehicle rental catalogue!
Contact us and tell us your idea. We will advise you and offer the best options for your business.