Are you about to set up the fleet of vehicles for the last mile service of your business? Then you need to pay attention! This first stage of the analysis of needs and choice of vehicles is one of the most important when it comes to optimising your delivery routes. Hence, it is essential to take into account the specific features of your business, the environment in which you are going to operate, the routes you are going to take and the products you are going to transport. Once you have all this information clear in your mind, you can start making decisions based on it. And one of the dilemmas facing you when choosing a van as a delivery vehicle is: short or long chassis?
It is not a decision to be taken lightly, as the selection of a van with a short or long chassis will make all the difference in terms of efficiency. Self-evidently, these options offer different load capacities and manoeuvrability. And so the profitability of your routes may be directly affected by this decision. You have to take into account aspects that range from the number of orders that you deliver daily, to the dimensions of the products that you sell or the streets that your delivery routes use. Do you deliver in urban environments and even in historic centres? Everything matters!
Pros and cons of short chassis vans
Short chassis vans are compact vehicles that are highly manoeuvrable and nimble. It is easier to drive them than other larger vehicles and their ability to access confined spaces is greater. The compact design allows them to access narrow streets and even the centre of large cities (all the more so if they are electric and comply with sustainability regulations). It also allows them to park more easily – an aspect worth bearing in mind, especially in urban environments – and to move faster through congested areas. 
What's more, the short chassis is usually more economical in terms of consumption and maintenance, so opting for it means saving in the long term. And although its dimensions are not as large as those of a long chassis van, in many cases its load capacity – greater than that of other types of vehicles- is more than enough for the day-to-day running of a business. Basically, a compact short chassis van is ideal for urban delivery: it offers excellent load capacity whilst allowing you to easily manoeuvre through crowded or narrow spaces.
The van MAXUS eDELIVER 3, for example, is available in a short chassis version (SWB), 2.18 metres long and with a cargo volume of 4.8 m3. As well as the van MAXUS eDELIVER 9, with a short wheelbase (L2H2) which affords a cargo volume of 9.7 m3.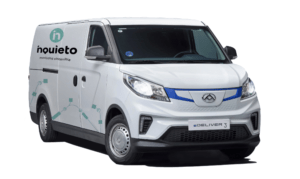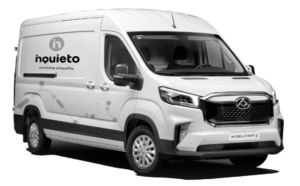 Pros and cons of long chassis vans
Long-chassis vans, in turn, stand out for their ample load capacity and for their large storage space. These vehicles are capable of transporting major quantities of merchandise on each journey, even bulky products. They are obviously more difficult to drive and they are less manoeuvrable than short chassis vans, which can present challenges in confined spaces or narrow and busy streets. Nevertheless, they make up for this disadvantage by allowing you to make fewer journeys: this type of chassis allows multiple deliveries to be carried out on a single route (saving fuel), as well as to transport large volumes of goods.
The van MAXUS eDELIVER 3 is also available in a long chassis version (LWB), with a cargo space which is 2.77 metres long and a cargo volume of 6.3 m3. Just like the van MAXUS eDELIVER 9, with a long wheelbase (L3H2) and a cargo volume of 11 m3.
What's the best strategy?
It is vital to know the needs of your business and your routes inside out in order to draw up a strategy for your last mile service. In this way you will be able to make an informed decision that helps to optimise delivery and achieve the satisfaction of your end customers. Another strategy that can be effective is the combination of various chassis types in your fleet. In this way you will have the ideal vehicle both for driving quickly through narrow streets in urban areas and for transporting large volumes of merchandise. Finally, don't forget that choosing the chassis is not the only decision you will have to make. You also have to take into account other factors such as the organisation of the cargo space.