Mobile workshops are transforming the mechanics sector. There has been a clear surge in this type of assistance and every day there are more companies seeking to incorporate this service into their offer. When speed is of the essence, mobile workshops are identified as the best option to carry out repairs in record time and with the least possible inconvenience for the users of the broken down vehicles. In other words, this system provides two aspects which are vital for mechanical work: speed and comfort.
What is a mobile workshop?
A mobile workshop is simply a vehicle, usually a van, equipped with all kinds of tools to carry out basic mechanical repairs anywhere. Once a customer contacts his/her technical service, he/she is answered by a switchboard to which he/she describes the breakdown of his/her vehicle. Once this has been done, mechanics are sent to the place where the client is located alongside his/her vehicle to carry out the repair quickly and comfortably. No need to take the vehicle to the workshop, request a replacement or wait weeks for a repair.
These mobile workshops are equipped with all kinds of elements, such as drawer units, containers, workbenches, shelves, folding shelves and machinery of all kinds. They also usually have generators and compressors or straps, hooks, or panels. Basically, everything you need to offer the best possible repair service to customers, always adapted to each situation. Because mobile workshops can be custom configured.
What are the key aspects to a mobile workshop service?
Due to the smooth functioning of this technical assistance system and the high satisfaction levels of customers, more and more companies decide to incorporate the mobile workshop service into their offer. In other words, mechanical workshops in operation which have discovered a new way of reaching their customers and thereby expanding their service. However, there are also many companies that have just started up and that only offer mobile technical assistance, without having at their disposal a workshop or base of operations as the aforementioned ones do.
Be that as it may, mobile workshop vehicles are a key tool to guarantee the good condition of vehicles of all kinds and road safety. They can also be used to perform other types of repairs unrelated with the mechanical sector. For example, a mobile workshop is also welcome in sectors such as telecommunications, carpentry, electricity, plumbing, cleaning or municipal services. In the case of health, for example, a mobile workshop allows access to any space with the necessary material to deal with any emergency
In addition, the configuration of a mobile workshop has low fixed costs and requires a much lower initial investment than that of a traditional workshop. All of which are more than enough reasons for this alternative to be a complete success: customers are more satisfied and company expenses are lower.
Sustainable mobile workshops
The use of electric vehicles for the configuration of mobile workshop services is one of the main trends today. Electric vehicles offer greater efficiency and do not generate emissions or noise pollution. A feature that allows them to access spaces in urban areas without difficulty, unlike other combustion engine vehicles. What's more, their use and maintenance costs are lower than those of other more conventional vehicle alternatives, so they can be more easily available at any time.
Latest technology and efficient design
Mobile technical assistance vehicles also stand out for their technological advances. Advances which foster the carrying out of faster, more accurate work. An example would be the communication systems between the customer service switchboard and the mobile workshop. An aspect which aids the achievement of greater customer satisfaction. What's more, the specialisation of mobile workshop equipment according to its specific applications (tyre repair, electronic systems…) also contributes to these highly positive results, increasing its efficiency and reducing downtime.
The best solutions for your mobile workshop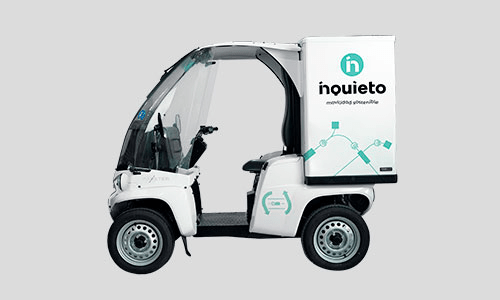 PAXTER CARGO electric quadricycle is a perfect vehicle for configuration as a mobile workshop. It affords great ergonomics and nimbleness in urban centres, stability thanks to its four wheels and it is capable of transporting a wide variety of loads in its trunk despite its small dimensions. It is a completely sustainable vehicle which works like an electric motorcycle with the performance of a small van, being able to transport loads with a capacity of up to 1,000 litres. In addition, its internal structure is configurable according to the technical assistance requirements that need to be covered.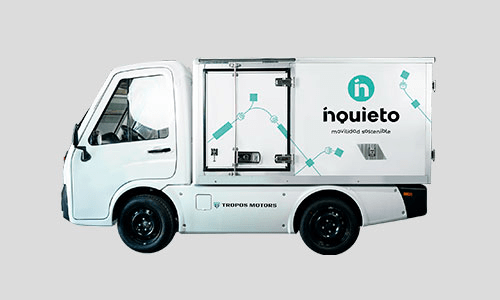 In turn, the compact electric van CENNTRO METRO reaches places where other vehicles can't go thanks to its compact design (for example: garages or other confined spaces). What's more, it offers a very high load capacity: 4.5 m3 of total volume and 700 kg of cargo, with a configurable internal structure and opening according to the needs of each mobile workshop. And it reaches a speed of 85 km/h and can negotiate gradients of 20%, allowing you to get anywhere quickly.